Regular visitors will recall that during the dark months of winter TNAB adventures once a month, as close to the full moon as possible. If you're from the Northwest you'll know that our weather is... fickle. So it shouldn't be a surprise that our first attempt at a January adventure was foiled by a storm that dumped feet in the mountains and shut everything down with a high avalanche danger. But we are TNAB and we are not easily deterred. It wouldn't be a full moon adventure, but it would be better. It'd be a slumber party!

Instead of leaving for a four-hour adventure at 6pm we'd bring along our tents and camp at the summit. And we'd be doing it in the snow since we're crazy enough to think that's a good idea. Six of us left the Sno Park just off the freeway and headed into the pitch black forest.

Well, it would have been pitch black if it weren't for the awesome reflectivity of snow. If you've never snowshoed at night you should definitely grab a headlamp and head out. Even a weak headlamp can light up the snow as the light bounces of the white. A strong headlamp turns the night into day. (I use a Black Diamond Icon that throws 320 lumens, enough to let me see everything and it's awesome. (Amazon affiliate links help support moosefish.com.))

The route we followed up to Kendall Knob was a familiar one. We've climbed it in the dark several times and was amazed at the beauty during the one daytime trip I've made in recent times. Even though we knew what to expect, those of us with heavy overnight packs were a little more challenged than normal. Worst off was our skier buddy who didn't deserve the mockery we delivered given he perfectly forecast the weather three days prior.

Since there was a rain crust under a few inches of powder and avalanche danger was "considerable" above treeline, we gave thoughtful consideration to our route through the trees. This route never goes above treeline and only skirts two small open areas, but we all had avalanche gear and knew that any of us could turn the group back. (One of the things I like most about hiking with this group and TNAB as a whole is we know who we are and we have nothing to prove.)

The best part of the climb comes after a particularly steep and grueling slope through the trees. Topping out above it, I flipped down my heel lifts and strolled through the trees on the little bench just below the Knob. Every time I'm there it feels different and this time the trees felt bigger than before. Even sweaty and tired, it was glorious. Better, I knew the Knob and our campsites were only a few minutes away.

Camping in the snow is just like camping without snow. Kind of. Start by either packing down or digging out a space for your tent. Once you have a solid base, set up your tent as usual, but instead of stakes to secure it to the ground you need either snow stakes (bigger than normal tent stakes that you can turn into snow anchors like these) or your snowshoes and poles buried in the snow.

Probably most important, especially when the wind is howling, don't let your tent go. If you do let it go, make sure there's someone downwind that can grab it before it flies away. It's just a guess, but I would expect sleeping in a snowstorm without a shelter wouldn't be much fun. You can use snow to build a wall to shield your camp from the wind or, if you're lazy like me, you can just pile snow around the base of your tent. (And if you're really lazy you can just let the eight inches of new snow slide off your tent and build up around the base.)

Even though this was supposed to be a slumber party and slumber parties are, well, parties, there was little partying. For me anyway. Once I drank some cocoa and ate a Snickers bar I climbed into the tent. (Really? Snickers before bed? Yup. One of my tricks for staying warm at night. That and putting a bottle of boiled water by my feet inside the bag.) I was testing a new sleep system (more on that in another post) so I needed some time to give it a shot.

Morning came way too early, but such is the life of a dad. I had to get home to get to ballet. Everybody else was still in their tents (some giggling like teenagers no less) so my group shot was more of a tent shot than a people shot.

Thankfully, even the eight inches of new snow that fell overnight didn't obscure the track we made on the way up so I had an easy walk down. Had it not been safe I'd have resorted to walking down the road, which is far longer and more suited to skiers than snowshoers. I was thrilled to not have to do that. After all, walking through the forest is gorgeous.

As many times as I've been out adventuring there's always something new. This time I was put on notice that I need a winter sleeping pad. My pad is more of a lightweight summer pad. It's probably time to upgrade to something like a Therm-a-Rest NeoAir XTherm. My summer pad, a Therm-A-Rest Z Lite, has an R-value of 2.2, but the XTherm has a 5.7 R-value. (What's an R-value? It's a measure of the insulation (technically thermal resistance). That's as much as I've got, but Wikipedia has way more than you ever wanted to know.) The Z Lite is great because it's inexpensive and light, but winter camping demands sacrifices. Thankfully, this sacrifice (money and weight) pays me back in comfort and warmth.

Don't get me wrong, I'll probably go snow camping again before I get a fancy new pad, but at least I'll know what I'm getting into. And the glory of waking up with fresh snow all around will more than make up for some shivering during the night.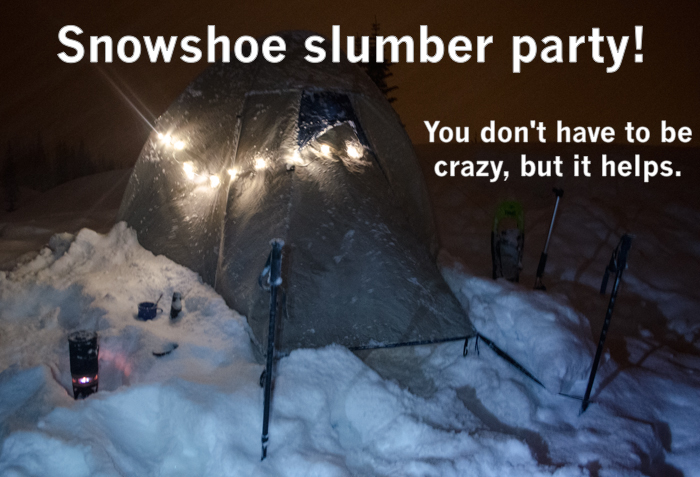 Pin it: https://www.pinterest.com/pin/240309330094775971/