Before the snow had even begun to melt this winter we started planning our (usually) annual multi-day backpacking trip along the Pacific Crest Trail. We chose a section (south from White Pass to Mt. Adams) found all the willing victims (Dan, Nick, me), looked for others (none), and started tossing around dates.
It quickly became apparent there was no time when the three of us could get away for a five day trek. Or a four day trek. Three, however, appeared doable, but then wasn't. Finally, Dan and I picked an early weekend in July and said we were going and anyone else (Nick) could join us if they wanted to. That weekend came and went without more than a dayhike up Mt. Kent because it came right after Amy's bout with crazy fever.
After Amy was made well again I started fishing around for a hike. Nick stepped forward with three days, but this time Dan couldn't go. Dan used several choice words to describe the situation in which I had canceled on him only to do the same hike with Nick, but Nick and I pushed ahead with planning.
Day one involved a three hour drive to White Pass (I went through Yakima, Nick came from Banbridge so he came through Enumclaw), parking one car where it hopefully wouldn't be ticketed or towed, and driving north to Crystal Mountain Ski Resort. From there, we'd climb up to the PCT (about 1,500 feet) through Boullion Basin and head south. Sheep Lake was only about nine miles in, but seemed a decent spot to stop for the night.
Day two was about 15 miles ending us up around Dewey Lake. Day three found us back at White Pass where we'd pick up the car, shuttle back to the other car, and head home.
The driving part went fine. I got to White Pass a little earlier than expected and had the joy of looking for anything palatable on the radio between North Bend and Ellensburg. Between the crackle of static, a jazz CD, and a kids music CD I opted for silence.
I stashed my trusty 'onda (the H went missing years ago) in the White Pass Village lot and we started up through Mount Rainier National Park. I've not done tons in the Park so every time I go in seems new. However, there was no time for dallying as we were both keen to get on the trail. Soon enough we were in the Crystal Mountain parking lot and geared up. It was already hot so I left my rain pants and gloves in Nick's truck. We were on the trail by 10am.
Right away we decided to divert from the plan. The Boullion Basin trail headed up with a big loop to the north, joining the PCT about half a mile north of Blue Bell Pass. Another trail headed up with a more direct route (past the water tanks) joining a few miles south near Pickhandle Point. Both of these were deemed too wasteful so we marched straight up the hill under the Quicksilver chairlift. No shade. No switchbacks. Just a dusty, loose-gravel road. At the end of the road we found a trail to Hen Skin Lake and from there up to Bear Gap.
Great, after only an hour on the trail I'm already dying. Granted, we'd climbed some 1,500 feet in a little over two miles in the hot sun, but still. It was looking to be a long trip.
Luckily, the next few miles were an easy traverse. We skirted the east side of the crest on a decent trail with a few hundred feet of elevation gain until reaching a junction to a saddle. I'd heard about this quick side trail and so we headed up an extra 50 feet or so to get our first glimpse of Mt. Rainier as well as the famed Crystal Lake. The lake wasn't that special, but Rainier was amazing.
As we'd already experienced a little, but would only fully realize later in the trip, Mt. Rainier dominated our thoughts. If it wasn't huge in the western sky it was consuming our thoughts. When we rounded this next corner or passed through the next gap would we see it? Can we camp somewhere we'll have a view at sunset or (better) sunrise? How amazing to think that as much effort as we've put in to get to 6,000 feet we're not even half way up...
We ate lunch on a little knob above the lake where the mountain stood guard. When we crossed back over the gap we saw a large party of dayhikers coming down off a high point near Sourdough Gap, right where we needed to be. Lightly equipped, too, especially given the scorching sun. Weird.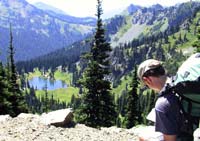 Nick studies the map at Sourdough Gap. Sheep Lake is below and Highway 410 is near the horizon.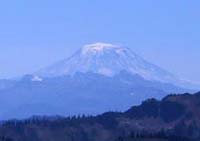 Mt. Adams appeared to us as Mt. Rainier does to Seattle.
At Sourdough Gap we could look down and see why the dayhikers were there. Highway 410 was visible a few miles away and Sheep Lake was swarming with people. So much for staying there the first night. Not that we were really entertaining that option anyway. It was far too early in the day for us to set up camp so after the climb down we filtered water and were on our way.
The trail from 410 to Sheep Lake was pretty easy and being so close to the highway it only made sense it would be a popular spot. We made a note that it's not a good isolationist's camp, but would be pretty good for the fam.
The trail crosses 410 on a cool overpass and begins a slow, but steady climb to Dewey Lakes. On the way from Sheep Lake to 410 we were going against the flow of hikers, but now we were with them. We passed several parties before I realized something was amiss. I stopped with that ill feeling that comes right before the mighty bonk. "Eat," said Nick, so I ate. A bar, an orange, and a bunch of peanuts. It helped. While we were sitting several parties passed us, but renewed we passed them again and were soon looking down on Dewey Lake.
The climb down wasn't much fun and Dewey wasn't terribly impressive, but we did find a nice secluded spot to chill on Dewey's little lake to the west. Nick took off his boots, but I kept mine on. I'd doctored my feet far too much to bother taking them apart for a simple dip in the water. Besides, they felt quite well.
Deciding Dewey was too crowded for our tastes we packed up and headed farther south. It was a bit of a climb, but Anderson Lake looked promising. This section was mostly in the forest so we were shaded from most of the afternoon sun. However, in a few of the meadows we noticed that some spots had ripe blueberries. I made a note of really productive patches in case we wanted to come back and pick some after setting up camp at Anderson.
The lake was quite nice and only one other couple was camped there. We were about to put down roots when a couple with three horses showed up. They weren't terribly sure where they were, but made sure to complain about being tired from riding all day. When they decided to put their horses in the meadow and stay the night we decided we wouldn't. Back on the trail we went. American Lake was the next option.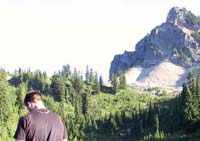 Salt marks where my pack rested on the first 14 miles of the trip as I stand in American Lake studying the map.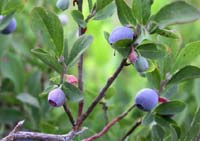 Blueberries filled the bushes along the shore.
The trail offered some great views and lots of blueberries as it decended to a spur trail that headed toward American Ridge. Although it seemed to take a long time to get there, it was only about five minutes in reality. We rolled into American and decided there was no better site to be had. Most of the shore is designated for revegetation so there are only two or three sites available, but it was all ours.
We dropped our packs, tossed our boots, and headed to the lake to filter water. The lake was amazingly clear and quite warm. A few fish rose for the caddis coming off the water. Nick's pump was tempermental, but mine worked well if slowly. Dinner was the always tasty Chili Mac with Beef (freeze dried) plus some rice for filler. Chocolate for dessert and in bed by 8pm.
We'd done 14.7 miles, 4,078 feet of gain, and 3,164 loss. My feet were in surprisingly good shape, but Nick was feeling some pain since he didn't have the insoles in place. They were somewhere at home.
Morning came awfully soon, even though I had about 10 hours of uninterrupted sleep. Usually I get up at least once in the night while camping, but the heat must have really beaten me down. We started the day with instant espresso (ick) that I mixed with hot cocoa (somewhat less ick). Nick stuck with the traditional oatmeal (supplemented with blueberries) while I choked down a bagel with peanut butter. (The bagel is my usual at-home breakfast and not too terribly heavy to bring on the trip. Even if it was really heavy, it was way better than oatmeal.)
We were back on the trail by 8am and cruising up the hill. Rainier appeared and seemed to be floating like an apparition above the surrounding hills. The morning light reflected off the ice and snow to make it almost transparent. I tried to capture it with the camera, but its beauty defied me. So just trust me. It was really neat.
At a gap around 5,800 feet we met a couple from New Hampshire that were hiking all of Washington. She was wearing shorts, but he was in a kilt. Hmm. Not sure how comfortable I'd be in a skirt, but he almost pulled it off. They were just chilling so we took off down the trail again.
We entered a basin high above Two Lakes, then saw One Lake below us. (Yes, there is a Three Lakes on the map, but I haven't yet found Four Lakes.) It seemed as though there should be wildlife bounding through the valley, but we saw none of it... or did we? Nick stopped and pointed into the woods at three "elk" and I swear I saw a ton of marmots, but both sightings were unconfirmed.
The ridge line ended above Crag Lake. We got what turned out to be our last look at Rainier and started the descent to the lake. Or at least it seemed to be headed toward the lake. Although there were trails in the meadow around Crag Lake neither of us saw a spur off the PCT heading to it. In fact, the PCT bypassed the lake (and Buck a little farther down) in a killer 1,800 foot drop to Fish Lake and the Bumping River. Tally another vote for north to south on this section.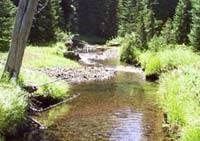 The Bumping River flows not out of Fish Lake, which looked really warm, but from another lake on the hill. It was ice cold and very refreshing.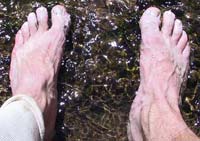 After eight miles my feet came out of the boots for some liquid refreshment.
When we finally, finally exited into the Fish Lake meadow we found Fish Lake to be pretty uninviting. The banks were ill-defined and it seemed more a stagnant river than a lake as we had expected. The outlet seemed a bit more promising, at least according to the map, so we headed downtrail to find it. We cut through a campsite (right on the trail in violation of the Wilderness rules, hmph) and found a nice spot where the river changes course.
The water was ice cold. So cold, in fact, we could barely stand to keep our feet in it for more than a few moments at a time. We had some snacks (mmm, cheesy chocolatey chub) and lounged in the sun swatting flies. At this point we were beginning to think about diverting from the plan again... but it's too soon to talk about that now.
The climb out of Fish Lake into what looked to be a large plateau filled with few trees, but many lakes turned out to be not as bad as we had anticipated. We were again in the trees and an occasional cool breeze blew. Both of us were now feeling the ill effects of poor foot choices (Nick lacking insoles, me hiking at all) so we didn't set any speed records, but we did make it up to the plateau.
Except the plateau wasn't there.
At least not what we had expected. We were hoping for a great open expanse dotted with lakes and maybe clusters of trees around the lakes. Instead, we found a mostly flat, mostly treed area. Worse, the many trails that criss-crossed the area were clearly popular with the hooved set. As a result we saw lots of horse sign and choked on the dust.
The first real lake we encountered was Snow Lake. Nothing like the Snow Lake in the Alpine Lakes Wilderness, but decent nonetheless. While we were filtering a horse party showed up and asked where they were. Later, one of them stripped to his tighty-whiteys and waded into the lake. Clearly we weren't staying at Snow Lake.
In fact, we cemented the idea that we would hike out instead of camping another night. Both our feet were in poor shape and the idea of putting boots back on after a night in the tent wasn't at all appealing. Nick figured he'd be welcomed home a day early with open arms and I thought a do-nothing kind of Sunday at home might be nice too. (Amy and the girls were in Portland.)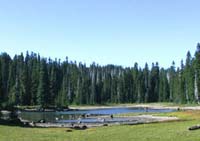 Sand Lake looked inviting as we buzzed past even if it was really low.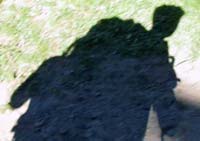 50 pounds of gear strapped to my back made for an imposing shadow.
So onward we went. The list of little mud puddles/lakes is too long to go through and not really interesting enough to bother.
We ran into another set of horseback riders who were also lost so now I'm convinced that in addition to being lazy they have a lousy sense of direction. Hopefully, they found themselves or at least gave a nice tip to the Search and Rescue folks when they were extracted.
From Buesch Lake we climbed a whopping 500 feet and found ourselves to be running on nearly empty. Nick grabbed some snacks and I drank a lot of water for our final descent. When the group of young hikers asked if it was nice to the north I responded with, "if you go far enough." Not exactly encouraging, I know, but true.
As we descended we came to Sand Lake. Although we didn't stop, it was clearly very, very low. I realize with a name like Sand Lake it's probably always low, but all the other lakes were well down, too. Most had little sandy beaches and the rocks had rings showing the normal water level in a non-drought year.
We rolled into Deer Lake, the last lake before the big down to White Pass and stopped for a breather in the shade. Deer Lake looks pretty nice even for being just a few miles from the highway. It clearly gets a lot of use, but was empty for this visit.
The final drop to Leech Lake and Highway 12 turned out to be less painful than we expected. There were oodles of switchbacks and lots of dust, but it passed quickly. At Leech Lake we followed the lake shore on the south side along a gravel road to the back side of the White Pass Village, its parking lot, and my car.
We banished our packs to the trunk and back seat (it's a small car, both packs wouldn't fit in the trunk) and made a quick dash to the gas station/deli. Ice cream topped our list, but also Coke and chips. The attendant asked if we had just come off the trail implying we were dirty and stank, but seemed disappointed when I said we didn't have a package waiting for us.
The day ended with a new record of 23.81 miles, 3,079 feet of gain, and 3,942 loss. The two day total was just over 38.5 miles. and 7,200 feet of gain and my feet showed it. Although only a couple popped, the blisters will make my life... interesting for the next week or so. So much for new boots, hydropel, orthotics, and toe sleeves. Next up on the experimental docket is a pair of stiff trail runners. We'll see.
After dropping Nick at Crystal Mountain to retrieve his car I headed home. Too late I considered going to Portland to surprise Amy for a one-day stay, but it sounds like she's having a good time there without me anyway.
Sunday was a blessing. I slept until 10:30am, consumed a ton of ibuprofin, and did little other than watch TV. This must have been what it was like before the kids, though I don't remember it that way. Of course, now that I'm all relaxed I find I'm missing the girls (that includes Amy) fiercely.
I guess it can't be all bars and blisters, but for a weekend it was mighty fine.


©2005 moosefish.com