Breast Cancer 3-day Walks Again
posted by Amy : September 9, 2007
---
prev
zoom
next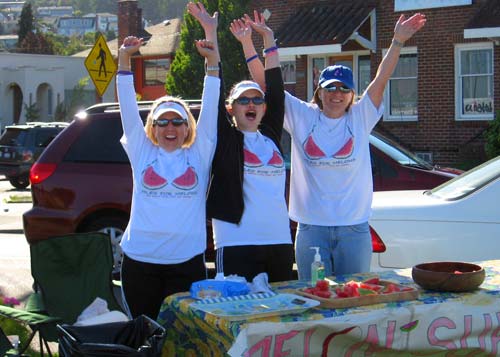 Cheering Melons
---
Michelle, Lisa and I headed into Seattle early on Sunday morning to cheer on those participating in this year's Breast Cancer 3-day. We had such an amazing time last year that we all really wanted to do something to support those walking this year. Once you experience the extraordinary energy that surrounds an event like this you want to find a way to stay connected even if you are not actually hitting the pavement.

Surprisingly, we were able to find prime real estate along Alki Beach at 7:50 on a Sunday morning. We pulled out our six foot table and started hacking up the six watermelons we had brought along. Our timing was perfect and we got to see every walker from beginning to end (even the staff member who follows the last walker on a bike). Our watermelon was a huge hit (note for next time: bring 12 melons) but Henry was the one stealing the show. Everyone is a sucker for a baby in a Melons shirt. I swear that people were stopping more often to take Henry's photo than they were to get melon. Who can blame them?

We had an inspiring morning and are itching to walk again for such an admirable cause. Lace 'em up folks....Miles for Melons is now recruiting members for the 2008 Seattle 3-day!!!