@#%*%@# it's cold
posted by John : January 15, 2007
---
prev
zoom
next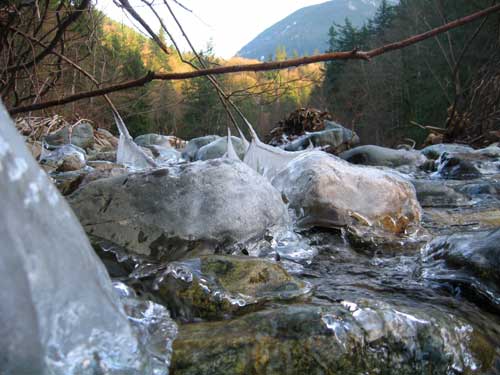 Chilling on the South Fork
---
No big deal, just another walk up to the Falls upstream from the house. In case you're heading up there before it warms up look out for the seventeen million ice slicks. Even the parts of the trail that look like dirt are frozen solid and treacherous underfoot. Tokul lost traction a couple of times.

However, it was all worthwhile to see the ice coating the falls. The only problems were that (a)I didn't have the camera the first time I went out and (b) the coolest looking stuff was where you can't see it without getting wet and cold.

So after getting home I dragged Clara and Lilly out to show them the ice. I figured I was doing them a service by introducing them to the great outdoors. It'll be a few years before they can adequately express their feelings. I guess I have a few more years to do this sort of stuff.