As National Breast Cancer Awareness Month comes to an end it's important not to let our commitment to fighting breast cancer fall by the wayside like the season's leaves. Breast cancer doesn't take the winter off and neither should we.

One of the reasons I love being an Ambassador for Tubbs Snowshoes is their commitment to fighting breast cancer. Over the years more than 46,000 snowshoers have participated raising more than $2.8 million. 75% of this money supports education and local affiliates of Susan G. Komen and the remaining 25% supports national research to help end breast cancer.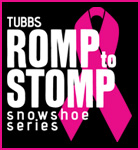 I've written about how breast cancer has affected my family before. This year we have yet more friends directly affected by breast cancer in ways we couldn't have imagined and are still struggling to understand.
You can help by participating with me at the Romp at Stevens Pass in Washington on February 7 or at one of the other three Romps in Ontario (also February 7), Vermont (February 28), or Colorado (March 7). No experience is necessary, just some warm clothes, a pair of boots, and a willingness to Stomp on breast cancer. (And if you'd like to wear something silly and pink that'd be great, too.)
If you can't make it to a Romp you can still participate virtually. Pick a location and register as a "Virtual Snowshoer." It's not as much fun, but you can still make a difference.
You can join Team Moosefish for the Washington Romp or make a donation to the cause through my page. I'd rather have your presence than your money, but either way we'll do our best to kick cancer in the rear end.