Paradise to start the New Year
posted by John : January 1, 2014
---
prev
zoom
next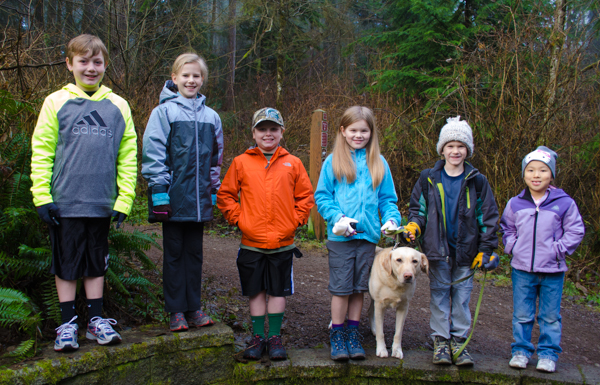 The line-up
---
Tradition states that every January 1 must be spent hiking. Well, for everyone except the moms. They go off and have manicures or pedicures or hairicures or something like that. I prefer to not know what they do. I just worry about hiking with the kids. And Daryl.

After a crazy late night celebrating the end of 2013 and the beginning of 2014 (at least in New York) we were none-too-early getting to the trailhead. We got the last two parking spots at the trailhead. We were the only hikers. Everyone else there had two wheels and a helmet.

Once we were off the shared trails we slowed to a more contemplative pace. At least when the kids weren't running. I'm not sure why they love to run so much. I don't think I ever ran like they do. I certainly don't run like that now. Unless I'm being chased.

The trail was short, just a few miles, but we had a chance to hike with friends we hadn't really seen since October and see a landscape we were unfamiliar with. Most importantly, we set the tone for another year of great adventures.