Five favorite pictures and the stories that make them special, huh? Nice challenge. (Thanks Jes and Chris.)

Turns out this really is a challenge. It's hard to find only five photos and stories I love. I've posted almost 11,000 photos in 2,100 posts over 12 years on moosefish.com. Not all have been great, but I like to think there have been more than five that are worth calling out. Heck, for the last four years I've assembled annual Adventure Reviews that pull together the best pics and trips of their years.

But a challenge is a challenge so here goes.
---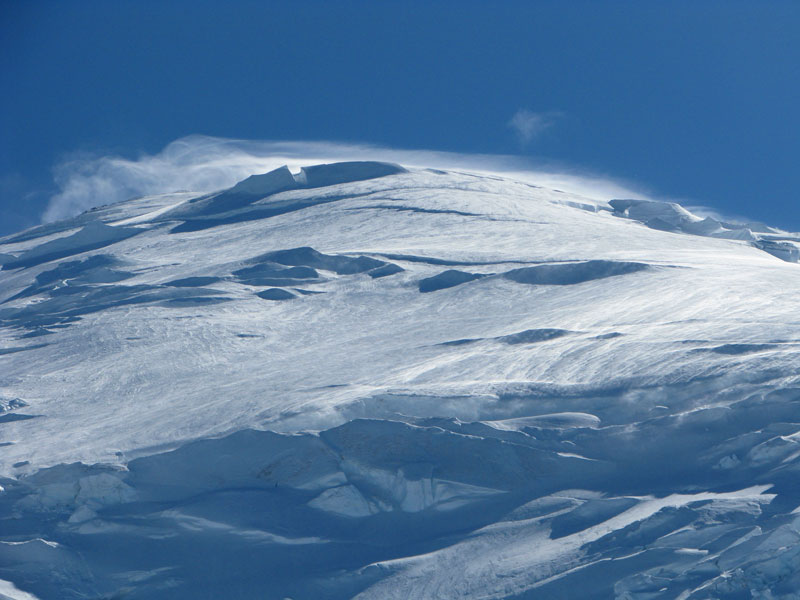 This was shot June 26, 2010 from Camp Schurman on the northern flank of Mount Rainier. We were preparing for our summit bid that would start at midnight. At 9,000 feet the weather was calm. The weather on the Mountain above us was not.
Looking at this picture I can see the wind blowing snow in dizzying patterns along the surface and the lenticular clouds forming on the right, blowing across the summit to the left, and scattering into the clear blue sky.
It was a nine hour climb the next morning that got us to the summit. Other photos show the details of the climb, the team, the crevasses, and the amazing views. None of them show the dynamic nature of the mountain like this one.
---
Tokul was nine when I took this picture after a weekend of hiking with the kids. When we got her as a puppy I didn't hike. However, I soon grew tired of walking around and around the block and looked for somewhere else to go. That led me to long dirt roads and longer trails.
Tokul never slowed down on the trail (until near the end), but she did need more time to recuperate between hikes. Even when she was beyond tired and sore she'd still get up to sit at my feet when I sat down. She was the consummate "man's best friend" and will forever be the standard all our other dogs will be measured by.
---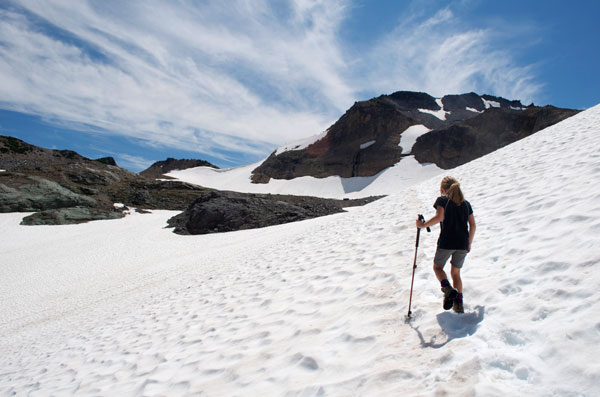 This is Lillian climbing from Summerland in Mount Rainier toward Panhandle Gap along the Wonderland Trail on the second day of our trip. In 2012 she was seven. Clara was nine. Every summer since they'd turned four they'd been backpacking with me, but the trips were "little kid" trips. I longed for the freedom to choose the kinds of destinations that I would choose if it was just me and my adult friends.
Summerland in Mount Rainier was a gamble that the kids were ready for that kind of trip and it paid off. What I saw on that trip was a maturation of my kids into adventurers short in stature, but long in ambition. They weren't out backpacking because it was what I wanted them to do. It's what they wanted to do.
---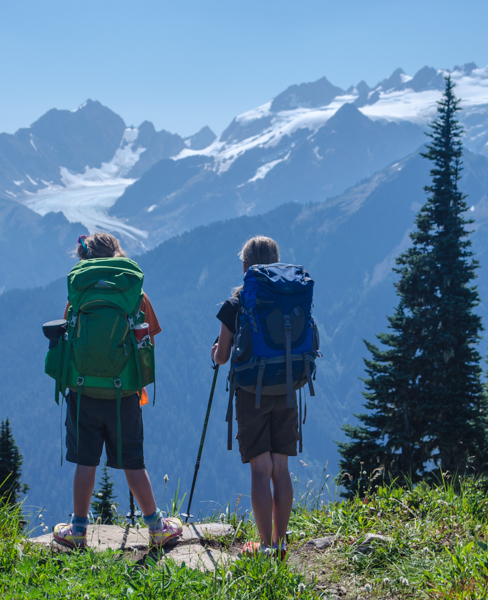 Taken just this summer, this photo of my girls looking over the Hoh River valley to Mt. Olympus speaks to me about the sisterhood they are forming and the role adventuring plays in their lives.
At home there are distractions and petty arguments that get in the way of their relationship. On the trail life is simplified. There is only the simple act of placing one foot in front of the next. It frees the mind to wander and consider what's really important.
Over the course of three days and 23 miles I saw the girls come to rely on each other for support as much as they did on me. I know that in time they will play a far greater role in each other's lives than I will so it's gratifying to see that they're off to a great start and that time on the trail is helping them bond.
---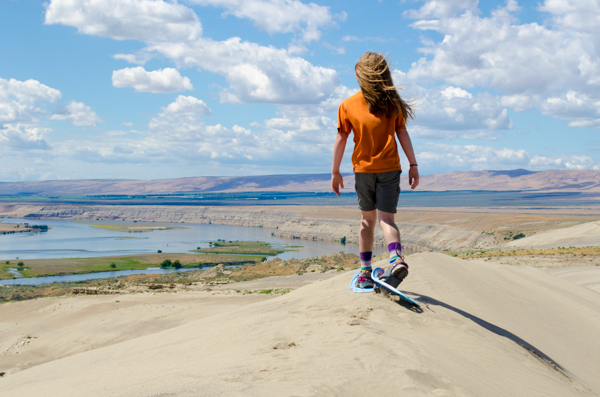 I chose this photo for a couple of different reasons. I love that it shows off a different side of Washington that most people don't know about. Yes, we have deserts and even a few sand dunes here and there. It reminds me of the first spontaneous overnight trip in which I literally threw gear into the back of the truck and hoped for the best. And finally, it's just a frickin' cool picture.
I love the way Lilly's hair and shirt are being blown by the wind as she walks along the crest of the dune in her snowshoes... er... sandshoes. I love the plane of the clouds and the smell of the air on that day. Well, you might not be able to smell it, but it was pretty cool.
White Bluffs and Crab Creek trip report
---
So there you go. Five photos and five stories. I nominate Terry Priest, fellow Tubbs Snowshoe Ambassador and Northwesterner to share his favorite photos.